TENKOO Solar Flood Lights Dusk to Dawn 6000K
Continuously illumination whole night: High quality 200W 8000 Lumens 6500k Solar LED Flood Light can illuminate an area of more than 1444 sq ft, like as a sun. 3.2V 20000mAH large capacity battery makes the lamp continue to illuminate for 16 hours(fully charged).
Motion Sensor & Light Sensor Modes: led flood lights dusk to dawn, It will automatically switch to highlight mode when it detects an object moving. It can keep your house secure when strangers approach. Maximum power saving.
Remote Control - This solar powered light is controlled by remote control and the remote control distance up to 32.8 ft(10m), for auto modes, motion sensing mode, full bright mode, full bright+motion sensing mode, timing mode.
Easy Installation - 2 ways of installation, one is hanging, one is fixed with screws. 16.4ft connecting cable can meet your installation and use needs to the greatest extent( you can mount the lamp at dark place and the solar panel in another place to get direct sunshine ).
3 Year After-sales Service: We provide worry-free 36-month After-sales service, For any questions about the product, please feel free to contact our friendly customer service. We promise you 100% satisfaction.
customers are viewing this product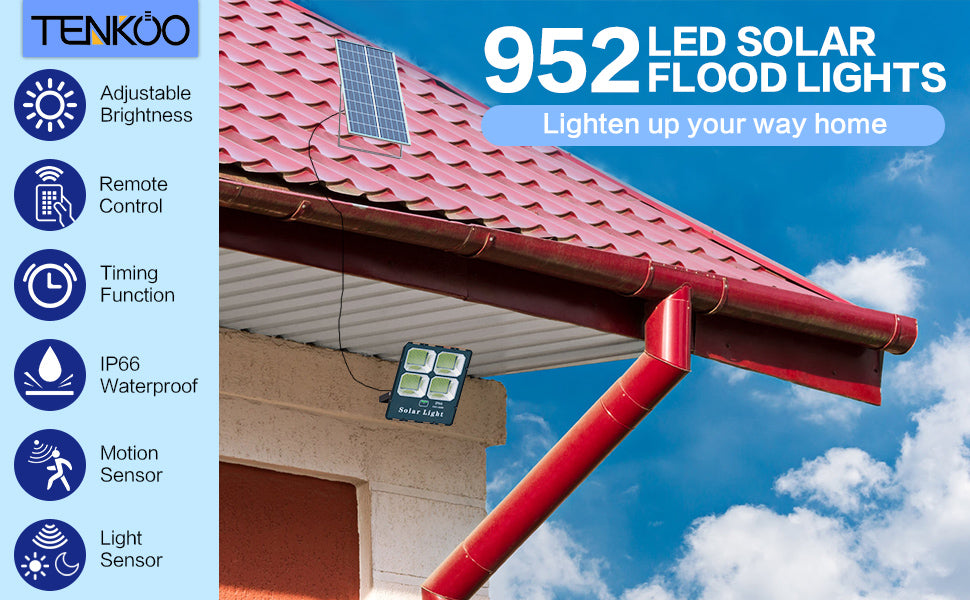 TENKOO 400W Motion Sensor Solar Street Lights 952 Leds
Whether you're getting up to let the dog out a night or just waiting up for a spouse or child to get home at night, you could make good use of solar street lights outdoor dusk to dawn.
3 LIGHTING MODES:
Dusk to Dawn Mode:

 

Automatically turns on at dusk and off at dawn. The color temperature of its LED bulbs is 6500K, a perfect daylight white.
Timing Mode:

 

Need to press the "auto" button first,and then choose 6/8/X+X timing, recommended on a rainy day, you can adjust to either high light or low light mode within each of those settings.
Motion Sensor Mode:

 

Equipped with the enhanced PIR motion sensor, 400w motion sensor light can detect any movement up to 26ft/8m. Dim Light when no motion and Full Bright Light once motion detected, giving you great visibility to the door.
 Note:In order to maximize the lighting effect, please install the light in direct sunlight and away from the shade caused by trees, buildings, etc.


Why choose TENKOO security led flood light?
Longer Cable

(1)Consider the area where you will install the lighting and if the supplied cable length will be long enough. 16.4ft cables between the solar panel and light unit allow for reasonable separation. The cable is fixed with a waterproof ring to ensure they don't separate.

Charging indicator & PIR motion sensor

(2) Built-in a sensitive light sensor and PIR motion sensor, the motion sensor can pick up movement from an animal, car, or human easily. Can detect any movement up to 26-32ft/8-10m at a 150° detection angle. Perfect for your front door, yard, garage, barn, path, etc.

25% / 50% / 75% / 100% represent battery power.

High Conversion Rate

(3) Along with a 3.2V 42000mAh battery & Larger solar panel(26.8 * 13.8in), solar energy conversion rate up to 20%. 952 LEDs bright enough to light up the barn or swimming pool.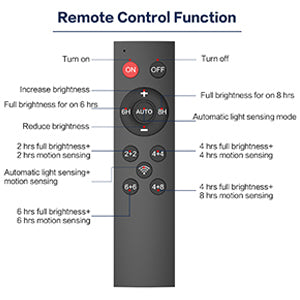 Remote Control Function
Light up automatically in the dark and turn off in the day time or bright light condition.

9 level brightness can be set according to your need: 10%-100%

The brightness cannot be adjusted under motion sensing mode. 100% brightness when motion is detected, 20% brightness when motion is not detected.

When working under time mode(

6H, 8H, 2+2, 4+4, 6+6, 4+8

), the brightness can be adjusted.
For example, press the "

2+2

" button, means be in constant light mode for the first 2 hours and enter the motion sensing mode for the next 2 hours.

The remote control distance is 26-39ft.


RETURNS POLICY
30-Day Refund Policy For any reason, undamaged products can be fully refunded within 30 days after the delivery date to the shipping address. Once the item is returned to TENKOO's warehouse for inspection, the refund process will begin.
Refund Process: 1. Contact support@tenkoolight.com for a refund. 2. Tenkoo support will reply within one working day. After reaching an agreement, you will be given the required information (such as a refund address). 3. Return the goods. 4. After the goods are received, Tenkoo will arrange a refund within 3 working days.
Notes: - Returns must include all accessories; - Items must include original packaging; - For warranty claims not related to product quality, the buyer is responsible for shipping costs; - For warranty claims not related to product quality, Tenkoo will refund the full cost of the product. - If the product does not meet the requirements above, the return request may be rejected. Refund requests for the 30-day return policy expire 30 days after the warranty claim is made. For non-quality related issues with expired warranties, returns will not be processed.
SHIPPING
Q: Does the item come with free shipping?
A: Free express shipping service is provided by TENKOO. PLEASE NOTE You may incur extra shipping costs if the address is a remote location (at standard market rates).
Q: How to check the status of my package?
A: Get your tracking number from order detail or your email send from TENKOO.
UPS CLICK HERE https://www.ups.com/track?loc=en_US&requester=ST/
USPS CLICK HERE https://zh-tools.usps.com/go/TrackConfirmAction_input
ALL LOGISTICS CHANNEL https://www.17track.net/en
Q: How long does delivery usually take?
A: The product will ship 24 hours after purchase, and delivery will take around 2-7 business days.
Q: Can you provide a signed receipt certificate?
A: Unfortunately, due to the epidemic, we are unable to provide a signed receipt certificate at this time, but we will resume this service once the epidemic has improved. We apologize for any inconvenience this may cause.
Q: What countries do you ship to?
A: Currently, we only ship to the US.
Q: How will my product be shipped?
A: We use express delivery services to ensure quick, safe delivery.
Q: I ordered more than one item. Will they all be delivered at the same time?
A: If all items are purchased on the same day, we try our best to make sure they are all delivered at the same time. Products that are purchased on different days have a lower likelihood of being delivered together.
Q: Can I change my delivery address after the product has already been shipped?
A: Unfortunately, we cannot change shipment information once the product is en route.
Q: What do I need to do when I received a product that's different from what I ordered?
A: Please contact customer support at support@tenkoolight.com.
Q: What do I need to do when I received a product that's different from what I ordered?
A: Please email us immediately with your order ID number and photos of the shipping label, of the SKU model number on the back of the product box, and of the product inside the box. Send all photos to support@tenkoolight.com.
Q: I didn't receive all the products I ordered. What should I do?
A: Please email us immediately with your order ID number and photos of the shipping label, of the SKU model number on the back of the product box, and of all the products you did receive. Send all photos to support@tenkoolight.com.
All packages are shipped out by UPS or USPS, the standrd rate should be 3 to 6 days. The U.S. and Canada addresses are free shipping besides Hawaii, Alaska and remote areas. However, affected by Covid-19, there will be some delay on the delivery. Thanks for your understanding.
| | |
| --- | --- |
| Brand | ‎TENKOO |
| Manufacturer | ‎Heidi Optoelectronic |
| Item Weight | ‎17.2 pounds (400w) |
| Product Dimensions | ‎15.7 x 2.7 x 14.1 inches (400w) |
| Batteries | ‎6 Lithium ion batteries required. (included) |
| Style | ‎Modern |
| Shape | ‎Rectangular |
| Material | ‎Aluminum |
| Finish Types | ‎Polished |
| Number of Lights | ‎952 |
| Included Components | ‎Batteries included |
| Voltage | ‎6 Volts (DC) |
| Specific Uses | ‎Ligting |
| Special Features | ‎0 electricity bill, Motion sensor, Waterproof ip66, Adjustable lighting angle, Remote control |
| Shade Material | ‎Metal |
| Light Direction | ‎Adjustable |
| Power Source | ‎Solar Powered |
| Switch Installation Type | ‎Hung and fixed to the wall |
| Batteries Included? | ‎Yes |
| Batteries Required? | ‎Yes |
| Type of Bulb | ‎LED |
| Luminous Flux | ‎20000 Lumen |
| Wattage | ‎400 watts |
| Color Temperature | 6500 Kelvin |